Usenet Server Info
From only $14.99

per month
5,170 Days Retention
Unlimited Maximum Speed
Our Rating:
Free Trials
SSL
VPN
Usenet Browser
EU Servers
US Servers
Other Servers
Credit/Debit Cards
PayPal
iDeal
BitCoin
Type: Tier-1
Usenet.net Review
5,170

Days Retention

Usenet.net provides high-speed premium newsgroup access services through a redundant and robust network of premium Usenet news servers. Usenet.net? newsgroup access customers enjoy premium retention and completion levels offering one of the most satisfying experiences you can get with a Usenet provider.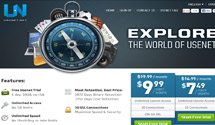 Free Trial
Usenet.net offers a FREE trial of their services. Please be sure to check the terms and conditions of any trials.
Usenet.net Usenet Access Options
Usenet.net Deals and Special Offers
Deal / Special Offer
Offer Details
Free Trial Offer
All accounts come with a 5 day, 10GB FREE TRIAL
Det Deal
First Month Discounted
Value Plan: $7.49 First Month
Premium Plan: $9.99 First Month
Det Deal
User Reviews
No Reviews yet, be the first to review.