Usenet Server Info
From only $7.50

per month
5,169 Days Retention
Unlimited Maximum Speed
Our Rating:
Free Trials
SSL
VPN
Usenet Browser
EU Servers
US Servers
Other Servers
Credit/Debit Cards
PayPal
iDeal
BitCoin
Type: Tier-1
Astraweb Review
5,169

Days Retention

Astraweb is currently one of the for runners in Usenet access, with retention increasing daily you cannot go wrong.

Astraweb


Excellent Price - Best Value for Money Usenet
SSL Enabled - Free SSL on all accounts
Completion - High number of peers. 99%+ completion
Complete Headers - Full set of headers, spanning our retention rate
Speed - Multiple Links to High Quality Providers
Connections - 20 Simultaneous Connections
Retention - Our retention is quoted for ALL groups
Posting Propagation - Excellent propagation of posts with many peers
US & EU Farms - Serverfarms in the US and EU
We Run Our OWN Servers - We do not resell.
Since 1998 15+ Years!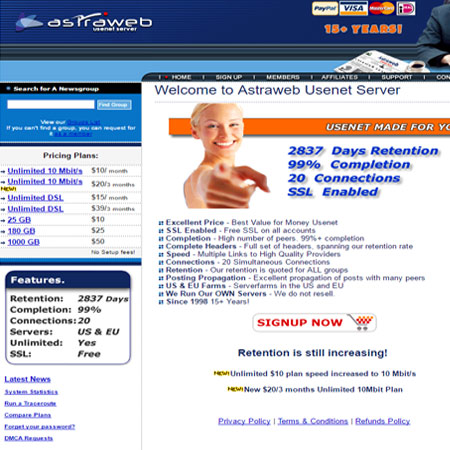 Astraweb Usenet Access Options
User Reviews
---
Review by: Greg Wallace
2016-06-18 09:01:05
Wow how cheap, Massive retention and great binary completion. Very much recommend.