Usenet Server Info
From only $8.40

per month
5,166 Days Retention
Unlimited Maximum Speed
Our Rating:
Free Trials
SSL
VPN
Usenet Browser
EU Servers
US Servers
Other Servers
Credit/Debit Cards
PayPal
iDeal
BitCoin
Type: Tier-1
Eweka Review
5,166

Days Retention

Eweka Internet Services offers you the fastest and most reliable access to Usenet. On our Usenet platform you get the highest possible quality of newsgroups and we currently connect you to over 125.000 newsgroups.
Products

EU Based servers, not subject to US DMCA laws

Standard account
- Speeds up to 100 Mbit/s
- Account sharing allowed
- Access to all available newsgroups
- High quality world-wide newsfeed exchange
- Super fast Privately Owned 600 Gigabit/s backbone
- Optimal completion of over 99.5%
- No usage limits, No contracts
- Respect for your privacy
- 8 connections per account
- Access to online control panel
- Support via email and chat ?High speed account

No matter which account type you choose, you will always have the option to switch between standard and high speed. You can change this yourself in My Eweka.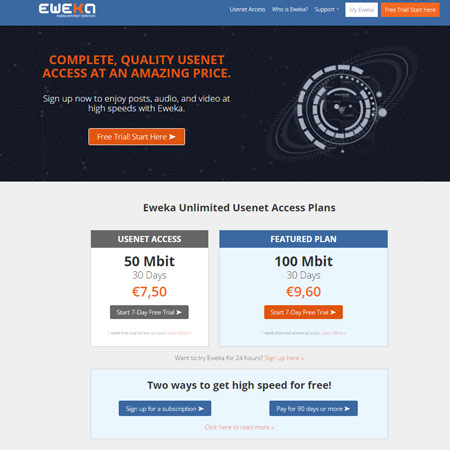 Free Trial
Eweka offers a FREE trial of their services. Please be sure to check the terms and conditions of any trials.
Eweka Usenet Access Options
User Reviews
No Reviews yet, be the first to review.