Usenet Server Info
From only $9.98

per month
5,170 Days Retention
Unlimited Maximum Speed
Our Rating:
Free Trials
SSL
VPN
Usenet Browser
EU Servers
US Servers
Other Servers
Credit/Debit Cards
PayPal
iDeal
BitCoin
Type: Tier-1
Easynews Review
5,170

Days Retention

Easynews has been in business for over 15 years and offers a very sophisticated, yet easy to use web based Usenet reader.

Search, preview and download from anywhere you have internet with the Easynews browser.

Rather than having a fully unlimited data bandwidth packages come in "data blocks". However you do get unlimited data with the BIG GIG PLAN. All other plans are up-gradable to unlimited for a small fee.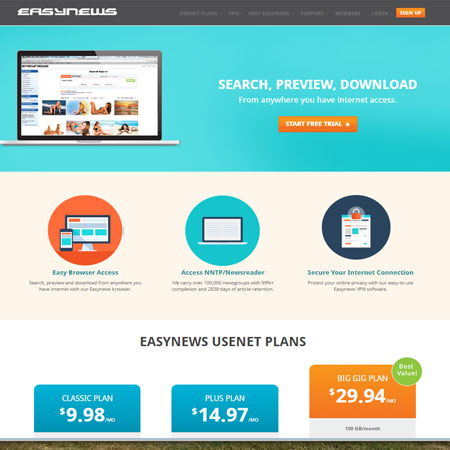 Free Trial
Easynews offers a FREE trial of their services. Please be sure to check the terms and conditions of any trials.
Easynews Usenet Access Options
Service Name
Retention
Connections
Bandwidth
Price
Monthly
Equivalent
Easynews Big Gig
5,170 Days
10 (SSL )
Unlimited
$29.94
Check Package
Easynews Plus
5,170 Days
10 (SSL )
30 GB
$14.97
Check Package
Easynews Classic
5,170 Days
10 (SSL )
20 GB
$9.98
Check Package
Easynews Deals and Special Offers
| Deal / Special Offer | Offer Details | |
| --- | --- | --- |
| 2 Weeks Free Trial | Two weeks free trial of the FULL Easynews service. | Det Deal |
| Free VPN | Free VPN on the BIG GIG PLAN | Det Deal |
User Reviews
No Reviews yet, be the first to review.