Usenet Server Info
From only $9.16

per month
5,082 Days Retention
Unlimited Maximum Speed
Our Rating:
Free Trials
SSL
VPN
Usenet Browser
EU Servers
US Servers
Other Servers
Credit/Debit Cards
PayPal
iDeal
BitCoin
Type: Re-seller
BinTube Review
5,082

Days Retention

Get the most complete Usenet package for only $9.16 / month! This incredible offer includes Unlimited Usenet access, the most advanced Usenet client with streaming capability, the best Usenet accelerator available and access to our Usenet search engine. No other Usenet service provides more value for your money! Once you try BinTube Usenet access, you will never go anywhere else for your Usenet needs. more...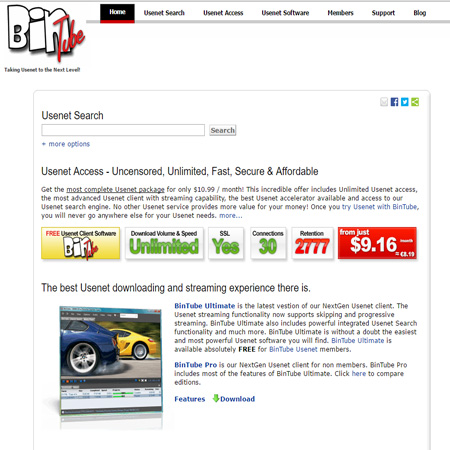 BinTube Usenet Access Options
Service Name
Retention
Connections
Bandwidth
Price
Monthly
Equivalent
BinTube Unlimited
5,082 Days
30 (SSL )
Unlimited
$9.16
Check Package
User Reviews
No Reviews yet, be the first to review.