Usenet Server Info
900 Days Retention
Unlimited Maximum Speed
Our Rating:
Free Trials
SSL
VPN
Usenet Browser
EU Servers
US Servers
Other Servers
Credit/Debit Cards
PayPal
iDeal
BitCoin
Type: Re-seller
Newsguy Review
900

Days Retention

NewsGuy's premium Usenet service gives you all the newsgroup content, when you want it, as fast as you want it!

Access to over 100,000 newsgroups: pictures, audio, video, and text discussions.

Millions of current and retained posts, sourced worldwide.

Compatible with NNTP readers, our Direct Read News, and mobile devices.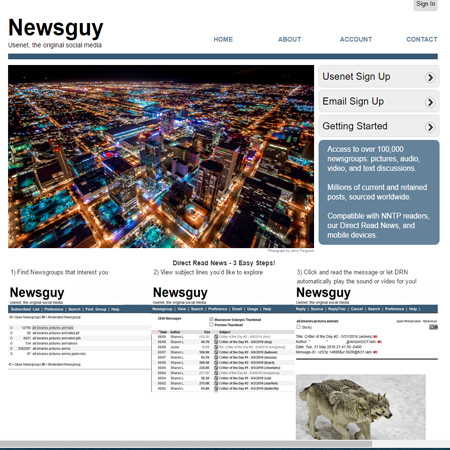 Newsguy Usenet Access Options
Newsguy Deals and Special Offers
Deal / Special Offer
Offer Details
Rollover Un-used Bandwidth
Only Applies to Basic, Express and Extra Accounts:

Don't use all of your download capacity during the month? With NewsGuy's Carry Forward Bandwidth feature, you'll never lose what you don't use! Any unused bandwidth from your account's monthly capacity will automatically carry forward to the next month & will be added to your new month's quota! There is no cap on the amount of bandwidth you can carry forward and no cap on the total amount carried forward over time.
Det Deal
User Reviews
No Reviews yet, be the first to review.