Usenet Server Info
From only $14.95

per month
4,661 Days Retention
Unlimited Maximum Speed
Our Rating:
Free Trials
SSL
VPN
Usenet Browser
EU Servers
US Servers
Other Servers
Credit/Debit Cards
PayPal
iDeal
BitCoin
Type: Tier-1
Power Usenet Review
4,661

Days Retention

Power Usenet is committed to quality.

We understand our obligation to serve our customers with the highest service levels possible. This is why our Unlimited Access plan works as a great alternative to newsgroup providers with short retention, missing articles, dropped connections, slow download speeds, or large amounts of spam. We simply provide excellent service at a reasonable price.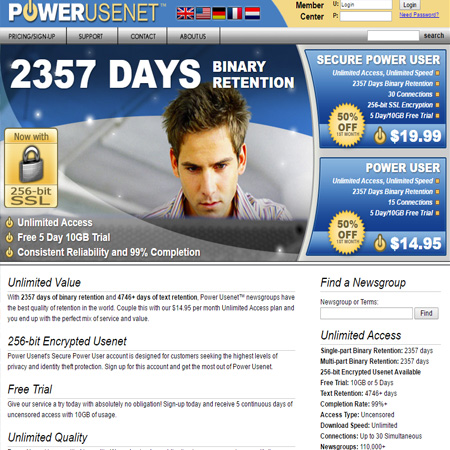 Free Trial
Power Usenet offers a FREE trial of their services. Please be sure to check the terms and conditions of any trials.
Power Usenet Usenet Access Options
Power Usenet Deals and Special Offers
| Deal / Special Offer | Offer Details | |
| --- | --- | --- |
| 50% Off | Power Usenet is offering a special 50% off your first month bill. | Det Deal |
| Free Trial | Power Usenet offers a 5-day, 10 Gigabyte Free Trial | Det Deal |
User Reviews
No Reviews yet, be the first to review.