Usenet Server Info
From only $9.95

per month
110 Days Retention
Unlimited Maximum Speed
Our Rating:
Free Trials
SSL
VPN
Usenet Browser
EU Servers
US Servers
Other Servers
Credit/Debit Cards
PayPal
iDeal
BitCoin
Type: Re-seller
Binary Boy Review
110

Days Retention

Binary Boy is a small provider, its key feature is that it comes with a dedicated Newsgroup Downloader Software.

Our tests found that there was approximately 100 days of binary retention.

Servers Near You - Access fast servers located in both the US and Europe.

No Hassle Cancel - Cancelling is easy.

$10 Off Binary Boy - All standard newsreaders are compatible with the the Usenet service. However if you'd like to purchase the Binary Boy newsreader, you can receive a $10 coupon when you sign up.

Binary Boy Newsreader Software Features
- Extract files from downloaded RAR archives automatically
- Download using NZB files or browse manually
- Handle 64-bit article numbers
- SSL connections for servers that support it
- Header compression enabled on servers that support it
- Assign custom folders and search rules to each newsgroup
- Search using individual keywords or create complex AND, OR and NOT search rules
- Built-in picture viewer
- Launch external programs based on the downloaded filename
- Overwrite temporary files before deleting for increased privacy
- Schedule automated downloads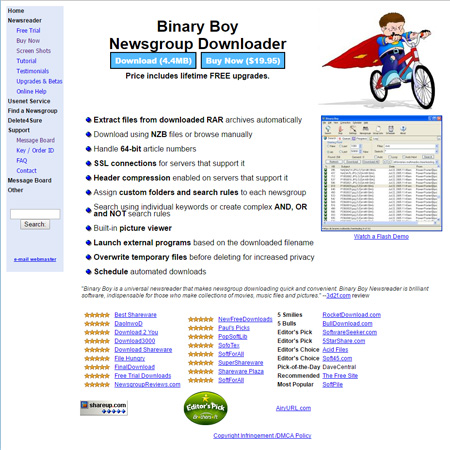 Free Trial
Binary Boy offers a FREE trial of their services. Please be sure to check the terms and conditions of any trials.
All accounts paid via paypal come with a free trial. Simply cancel before your billing cycle.
Binary Boy Free Trial
Binary Boy Usenet Access Options
Service Name
Retention
Connections
Bandwidth
Price
Monthly
Equivalent
150GB
110 Days
10 (SSL )
150 GB
$17.95
Check Package
50GB
110 Days
10 (SSL )
50 GB
$9.95
Check Package
User Reviews
No Reviews yet, be the first to review.