Usenet Server Info
From only $14.99

per month
1,600 Days Retention
Unlimited Maximum Speed
Our Rating:
Free Trials
SSL
VPN
Usenet Browser
EU Servers
US Servers
Other Servers
Credit/Debit Cards
PayPal
iDeal
BitCoin
Type: Re-seller
Usenet.nl Review
1,600

Days Retention

Usenet is an independent network of over 10,000 servers worldwide. For over 30 years, Usenet has been the most popular place for the exchange of information and files

- Free Trials

- high speed, Anonymous and safe download (ssl)

- search for files/articles

- easy to use

- 100% ad-free

- for Windows, Mac & Linux!

- US, EU, HK Servers

- Credit, paypal accepted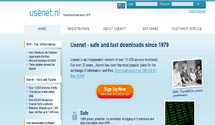 Free Trial
Usenet.nl offers a FREE trial of their services. Please be sure to check the terms and conditions of any trials.
Usenet.nl Usenet Access Options
Service Name
Retention
Connections
Bandwidth
Price
Monthly
Equivalent
Unlimited
1,600 Days
16 (SSL )
Unlimited
$11.99
Check Package
User Reviews
No Reviews yet, be the first to review.