Usenet Server Info
From only $11.99

per month
5,170 Days Retention
Unlimited Maximum Speed
Our Rating:
Free Trials
SSL
VPN
Usenet Browser
EU Servers
US Servers
Other Servers
Credit/Debit Cards
PayPal
iDeal
BitCoin
Type: Tier-1
SuperNews Review
5,170

Days Retention

Supernews keeps it simple. We offer Unlimited Usenet. Unlimited Usenet means Unlimited Access and Unlimited Speed.

We don't offer confusing plans with tiered or metered rates. We focus on offering the most value with a simple price. We offer: one price, one plan.

With this plan, Usenet users have access to:

- 30 SSL Connections (256-bit)

- Unlimited Usenet ? No GB or Speed Limitations!

- Servers in North America and Europe

- 24x7x365 Customer Support in 15 Minutes or less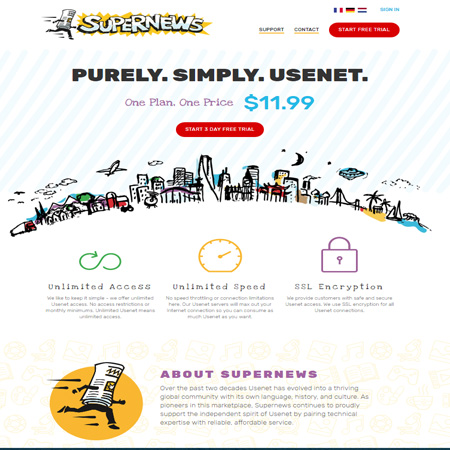 Free Trial
SuperNews offers a FREE trial of their services. Please be sure to check the terms and conditions of any trials.
SuperNews Usenet Access Options
Service Name
Retention
Connections
Bandwidth
Price
Monthly
Equivalent
Montly
5,170 Days
30 (SSL )
Unlimited
$11.99
Check Package
SuperNews Deals and Special Offers
Deal / Special Offer
Offer Details
3 Day Free Trial
- 3 Day Free Trial
- No GB Limits
- Over 100Mbps
Det Deal
50% Off First Month
First month half price. Only $5.99 !
Det Deal
User Reviews
No Reviews yet, be the first to review.